Diploma in Bakery and Confectionery
WELCOME TO NAIROBI COLLEGE OF BREAD AND CONFECTIONERY TECHNOLOGY
"Nairobi College of Bread and Confectionery Technology."
Learn with experts
---
ABOUT US
Vibrant and diverse, NCBT has helped thousands of students find a career in Baking Technology and we are ready to help you find yours.
With campuses in Nairobi, Mombasa and Nakuru, NCBCT works at the forefront of the Baking Industry.
Nairobi College of Bread and Confectionery Technology is one of the largest and oldest bakery schools in the East African Region.
Established in 2002, NCBCT is registered by the Ministry of Education (TVETA AND CDACC) as a Technical Vocational Training Institution.
It offers competent based career training programs and short courses in baking and cookery:
2 to 10 weeks (full time and Part time)
6 to 18 months career training programs in Baking Technology (full time and part time)
Diploma in Baking Technology – KCSE grade C- and above (18 months)
Craft in Baking Technology -KCSE grade D plain and above (12 months)
Artisan in Baking Technology -KCSE grade E and below ( 6 months)
1 to 10 weeks cookery courses (full time and part time)
Assessment for Recognition of Prior Learning (RPL) (people with skills but without certificate are assessed for recognition and equation of their skills to an equivalent qualification and awarded a certificate of merit).The college has more than 6000 successful alumni, many of whom own bakeries and others are managers in the bakery industry.
Nairobi College of Bread and Confectionery Technology also received and trained the KCSE youth aged 18 years to 29 years sponsored by Kenya Youth Empowerment and opportunities Project (KYEOP) in cycles 1, 2,3,4,5, and 6.
Nairobi College of Bread and Confectionery Technology partners with over 45 employers (bakeries) who provide 3 months internship placement opportunities to the students.
Locate the course details and select a course of your liking.
Join us on Twitter, Instagram, Facebook and the you-tube channel.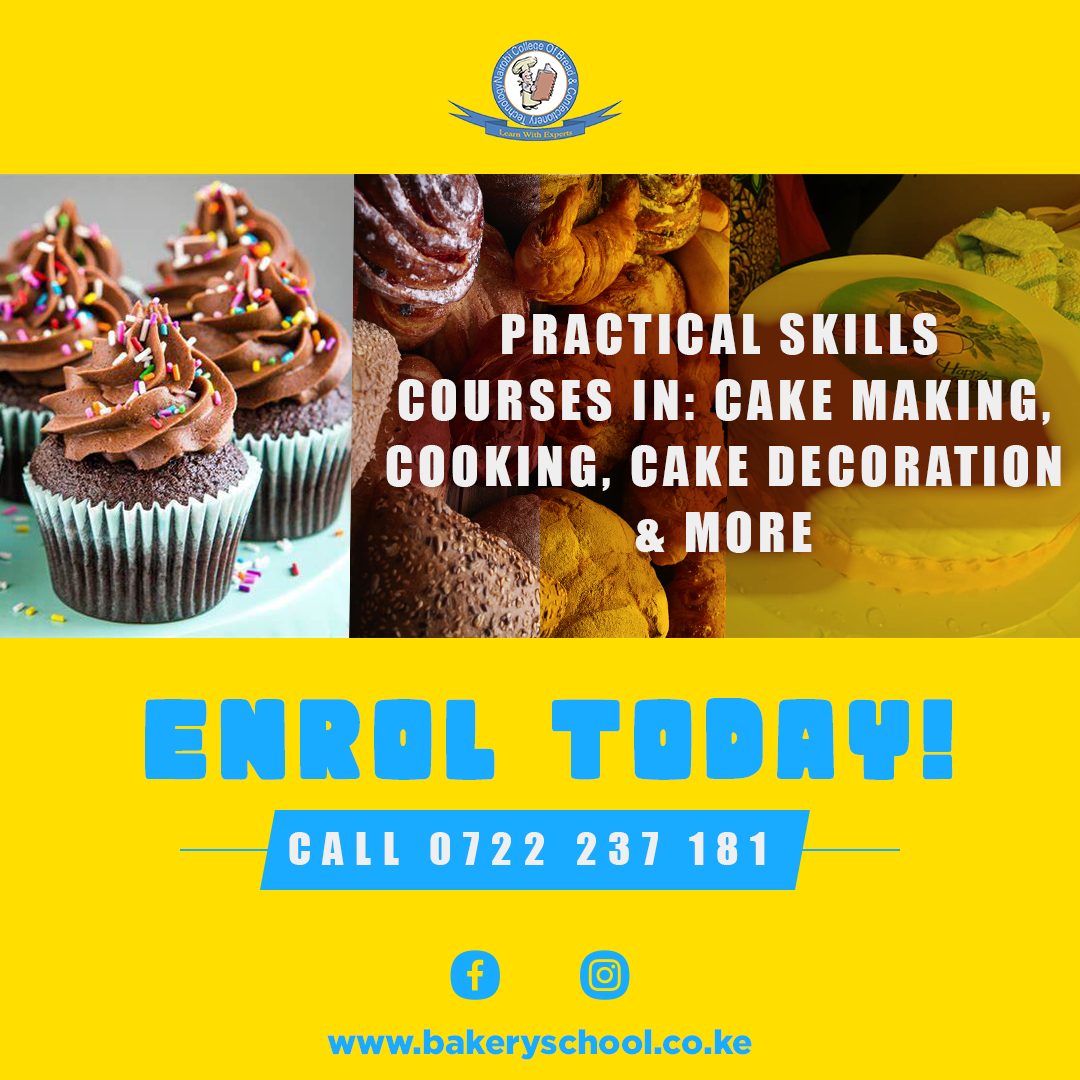 PROGRAM FEES AND DURATION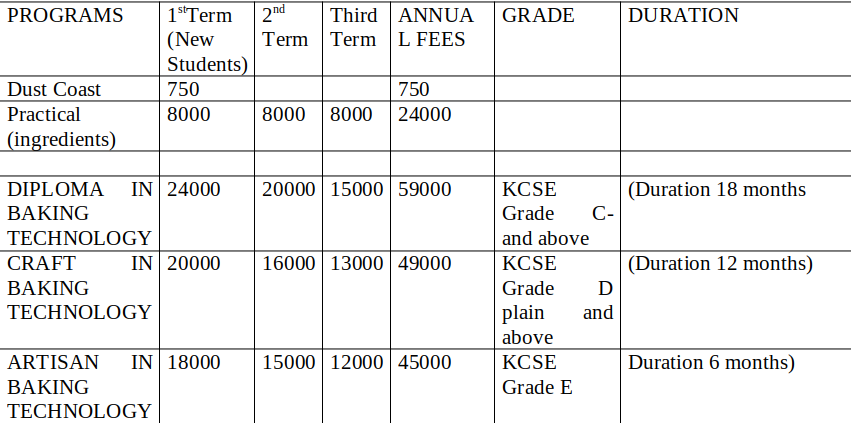 WHY YOU SHOULD JOIN NCBCT
Has campuses in Nairobi, Mombasa and Nakuru the nation's capitals.
Instructors with both employment experience and Technical Training.
1 to 3 student groups for hands-on training in practical lessons.
Flexible class schedules to suit the client's needs.
No age limit (minimum 15 years, maximum 80)
Continuous intake for short courses.
Hands-on practical skills training
A Student can break to go and get employed and return at any time in future to continue his/her training.
Full time and part time classes are available.
One on one sessions with the instructors during practical skills training.
NCBCT is a training and assessment center approved by TVETA and CDACC to train Competency Based programs in Baking Technology and assess the people with skills but no certificate for recognition and equation of prior learning to a qualification in collaboration with CDACC.
College certificates are issued for short courses.
College has collaboration arrangement with its employer partners for 3 months internship placement to willing students.
No age limit for enrolment and admission (15 years to 80 years).
Any special need can be considered.
START LEARNING WITH US
Sign up to start learning with us. Browse through our courses catalogue and choose a course to start learning with us.
The payment method is seamless (MPESA PAYBILL 203971).
The courses are delivered in a physical class or online at the comfort of your home setting.
ONLINE/VIRTUAL LEARNING
Our solutions include online training in various bakery products for start -ups, bakery owners, professionals, baking for leisure at home etc.
If you cannot afford time to go to a physically class, this is an ideal place for you.
Visit: www.ebakerycollege.com
We are an innovative online and physical class training facility backed by specialists from the industry with extensive knowledge in bakery, confectionery and cookery.
Their expertise is delivered to you in a modular and easy -to- follow way.
Apart from our online website www.ebakerycollege.com, we use Microsoft office 365 which offers a whole range of online learning tools for staff and learners which can be accessed from anywhere with an internet connection(from within college or outside). It includes such things as:
Access materials relevant to your course ranging from copies of handouts to interactive multi-media materials.
Access online assessments offering instant marking and feedback.
Download copies of assignments briefs and hand in your assignments online.
View your grades and progress through the course.
Stay in contact with your tutor and fellow learners via Email.
Contribute to discussion using online discussions boards.
Access your course calendar to view important events.
All learners are automatically given access to Microsoft office 365 as part of their enrolment, once their student account is activated.
This allows you to access useful study guides and much more.
In addition, your tutor may put up materials and activities specific to your course of study for you to access.
Meet Our Team
Plugins your themes with even more features.